Purpose
The U. S. Coast Guard Auxiliary Milford Flotilla 24-03 offers free vessel safety checks to boaters who wish to be sure that their boats meet all federal and state requirements. The Vessel Examiners who perform these checks are specially trained Auxiliarists who are kept informed of the latest legal requirements for boaters. This is not a law enforcement activity, you will not be fined if you are missing any required items. The goal is to prevent boaters from getting equipment-related citations and to prevent safety-related accidents.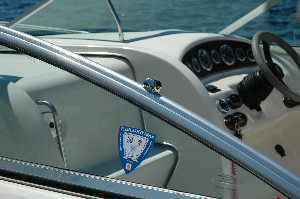 These safety checks are meant to be an educational experience. The Vessel Examiners will check for all required items on board your boat and if everything is present and in good working order, they will award a decal to affix to your boat. If you wish, they will also gladly explain the reason for the various safety equipment requirements and explain how safety equipment works.

Check-off list

Display of Numbers - Forward half of boat, three-inch high block letters, contrasting in color. Must read left to right, state decal.
- Example: CT 1234 AB (2" spacing)

Registration and Documentation - Must be current and on board.

Personal Flotation Devices / Life Jackets (PFD) - Coast Guard approved, good and serviceable condition, suitable size for wearer. Boats 16 ft and longer must have a Type I, II, or III wearable PFD for each person on board (minimum two). Must also have one Type IV throwable on board. A Type V (hybrid) may be counted against the requirement, but must be worn at time of safety check. Boats under 16 ft in length have basically the same requirements, except the Type IV throwable is not mandatory.

Visual Distress Signals - Required on recreational boats on coastal waters, Great Lakes, or the high seas. For boats on inland waters, the Coast Guard Auxiliary requires some means of making a suitable day and night visual distress signal. Equipment could include strobe light, flashlight, signal mirror, red or orange flags.

Fire Extinguishers - Approved by Coast Guard. Requirement varies by size of boat. Less than 26 ft., one B-1 extinguisher. 26 ft to 40 ft., two B-1 or one B-2 extinguisher. (If the boat has an approved fixed system, only one B-1 is required.) Must be in good and serviceable condition. Pressure gauge (if installed) must be in green area.

Ventilation - Not required on boats of open construction or diesel-powered boats. Open construction means NO enclosed spaces where fumes can accumulate. Power ventilation must be operational on boats with enclosed engine compartments.

Backfire Flame Control - Inboard mounted engines must be equipped with an approved Backfire Flame Arrestor.

Sound Producing Devices - Required. This can be whistle, horn, etc. Must be capable of 4-sec. blast audible for 1/2 mile. Vessels 26' and over in Connecticut must also carry a bell.

Navigation Lights - Boats over 16 ft in length must have operable navigation lights and all-around anchor light. All lights must be properly installed, operating correctly and not obscured.

Pollution Placard - Required on boats over 26 ft.

MARPOL Trash Placard - Required on boats over 26 ft. Written waste management plan required on vessels 40' and up, print one here.

Navigation Rules - A copy of the rules is required on vessels over 12 meters (39.4 ft)

Additional State and/or Local Requirements - Every motorboat 26 feet or more in length shall be equipped with a bell capable of producing a clear bell-like tone of full round characteristics.

Overall Vessel Condition - Deck free of hazards, clean bilge, safe electrical system (covered battery terminals), fuel system (safe, no leaks, good condition), safe galley and heating system, if equipped.

Not required by VSC, but encouraged -Marine VHF radio, Dewatering Device & backup, Mounting for fire extinguisher, Anchor and anchor line for area of operation, First Aid, Capacity and Certificate of Compliance plates.

Educational discussion items that may be covered during VSC

Accident reporting/Owner responsibility, Nautical charts and navigation aids, Survival tips and first aid, Fueling and fuel management, Float plan and weather conditions, Insurance considerations, Boating check list, Safe boating classes.
To schedule a courtesy examination you may leave a telephone message at 203-874-0200 or e-mail FSO Vessel Examinations.