Flotilla 24-3 offers a number of Boating Courses including the 8 Hr Boating Safety Class required for a CT Safe Boating Certificate. Another course we offer is the Navigation, Charting and GPS class.
All students will need to get a State of CT Conservation ID Number before taking the ABS/PWC class. Go here and register for a FREE ID number.
Flotilla 24-03 conducts marine patrols and search and rescue missions in Long Island Sound, educates the public via boating safety classes, and conducts vessel safety checks. These are just a few of the many missions the members of 24-03 undertake in serving their boating community, our state and our country.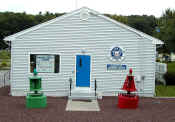 Meetings are held the first and third Tuesday of each month at 7:00PM. Contact us:
Telephone: 203-874-0200
Email: Click Here
1 Helwig Street
PO Box One
Milford, CT 06460-0001
Did you know?
88.5% of boating fatalities involved a boat operator with no or only informal boating instruction! Take the About Boating Safety Course with Flotilla 24-03, Milford, CT.